So, I posted a quick review over at BFM about these but just to show I havent been totally dead in the sound department the last couple of weeks have been spent wiring up and testing these puppies.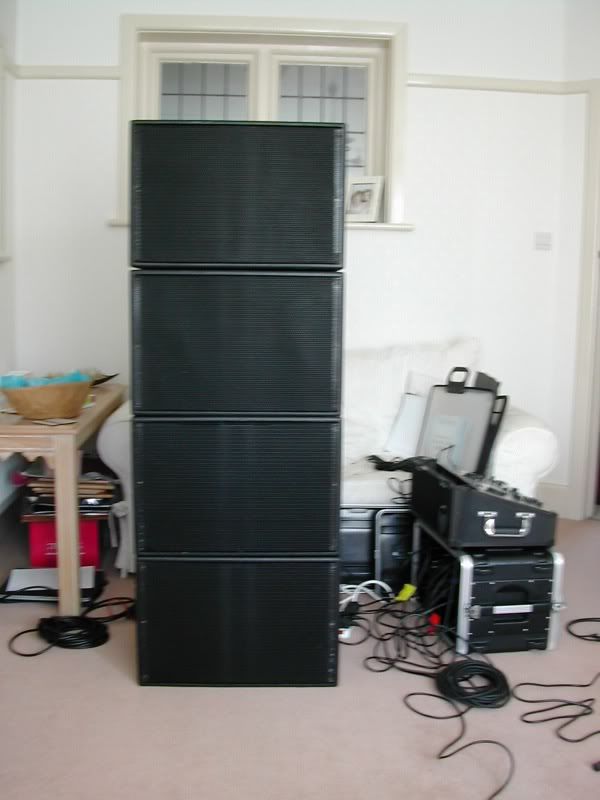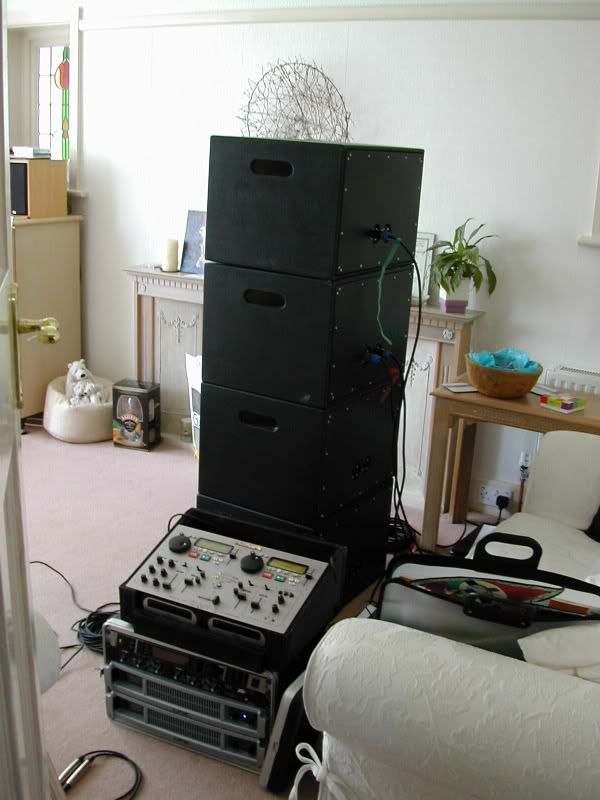 Whats inside?
P.Audio SN12MBs, 3x 1177 dual element Piezos per cab, cut and glued into a vertical array (you can see down the centre of each cab) wired in series (each piezo has the two elements in parallel). This gives equivalent to around 900W power handling for high end of each cab.
Now the P.Audio SN12MB drivers are not the recommended drivers for this cab, and I have already brought up this point on the BFM forum, they dont have the requisite rising response in the midrange.
HOWEVER this does not seem to affect the response very much and on the RTA, with very little effort I managed to get plenty in the 1-2kHz range out of them with no more than around 3dB of boost in that region in order to do so.
How do they sound?
Loud, a bit too loud for my lounge, as always I started off with the typical pink noise, and couldnt turn the amp up past about -18dB without feeling like donning some ear protection.
Calculating that back, thats 9W going in.... OUCH.
So I dont suppose I will have much trouble getting more than enough volume than I need for the future, and I am very glad I went with 4 singles rather than 2 doubles!
Since loud is about the least important spec for a discerning ear what can I say about them?
Well, the problems I thought I was going to have with the sound were likely to come in the midrange but they didnt, in fact I was very surprised at how smooth the crossover between the woofer and tweeters sounded.
HF sound is typical of a piezo, fairly bright but transients are largely good, the brightness can be controlled with a touch of EQ, and so the sound is actually pretty detailed.
I was a bit unsure of what was going on in the mids between 100-500Hz at first, but the drivers had not bedded in fully so this may explain it, as may the fact that the room was probably adding some colouration and cancellations to mess up what I was hearing.
After running a basic auto EQ I sat back and listened to several hours of different source material at a volume I could stand that didnt start to compress my ear drums.
Compared to the typical reflex cabs everybody is used to using, the first thing that jumps out at you when you listen to a horn is the lack of detail that reflex cabs can convey particularly in the lower mids. I much prefer the controlled punch in the lower mids that these cabs put out over a typical reflex.
For me during my listening sessions it allowed me to hear things in the music that I had never previously been aware of. I felt that the nodes in the room I was listening in were muddying up the sound below 100Hz, so I engaged the crossover at that frequency and did the bulk of my listening with the cab running over the intended range it will be used in and it did clear up a lot of the issues I was concerned about earlier on.
My source material consisted of a wide variety of music but I was always listening with reference to how well it performed on vocals and instruments since the majority of work I do is live band. One particular event struck me and that was upon listening to a Jeff Beck album, at the beginning of a track there is a loop he uses that obviously hadnt had its volume automated smoothly in the DAW because at the end of the loop as the sound died away, there was a jump between the acoustic silence and digital silence and I could actually hear where the loop points started and ended. I had never heard this before on this particular track so it was eye opening just how much detail horns can and do give, and especially ones that really cost this little to put together.
So after this I want to see how much detail horns can give on source material that I really knew well so I opened up the music collection and went through and sure enough it revealed a few other details in tracks that had previously been masked by a reflex.
So overall been quite impressed. Just good sounding cabs, not exceptional, but very useable with fairly minimal EQ and I expect FAR too loud to ever get close to their full capabilities.
Will add more details as I play out with them in different venues and work a bit more on the EQ settings.
Stu


Edited by Disco Stu - 10 April 2008 at 11:48pm