Dead Prez Announce Official Remix Of Time Travel Introducing AP2P (Aka M1-Dead Prez & Bonnot)
Artists: Dead Prez Feat. Black Thought, Busta Rhymes, General Levy, Bun B and Fre-I
Remixed by: AP2P (M1-Dead Prez and Bonnot)
Release date: 27th October 2014
Premiered by: DJ Mag (Free Download)
Link: http://djmag.com/content/free-download-dead-prez-remix-interview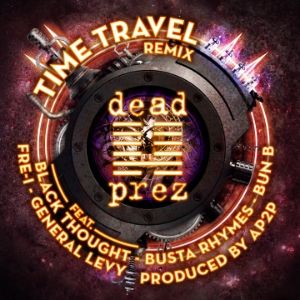 "it wasn't until I hung out with Dead Prez and understood how to make, you know, raps with a message sound cool that I was able to just write"
KANYE WEST (New York Times)
"These grimys took M.O.P.'s spot as every MC's favorite MCs."
VICE MAGAZINE
"Stic.man and M1 have the courage of their convictions, and they have remained radical and unpredictable for over a decade"
PITCHFORK
The iconic Hip Hop stars Dead Prez unveil a new remix of Time Travel by AP2P, aka M1-Dead Prez and producer Bonnot, out 27th October 2014. Time Travel also features some of the duo's legendary friends including Busta Rhymes, Black Thought of The Roots and Bun B, with additional contributions from Fre-I and UK Jungle legend General Levy. AP2P have received numerous accolades including a call by Macklemore inviting them on stage at his recent Madison Sq. Garden concert in New York.
M1 is best known as one half of politically aware Hip Hop icons Dead Prez, best known for their worldwide smash hit track 'Hip Hop' which was recently revitalised by current UK taste-making producers DJ Fresh & Adam F, and Bonnot is the DJ / producer of popular socialist Italian outfit Assalti Frontali. The duo joined forces under the new AP2P banner, which stands for 'All Power to the People' - a fitting slogan that finds its origin in the Black Liberation movement.
M1 and Bonnot first met in Rome when Dead Prez featured on Bonnot's uprising track 'Let's Get Organized', leading to the two deciding to combine their skills building an "intercontinental, anti-Imperialist sound system". Their first combined AP2P composition was the critically acclaimed track 'Real Revolutionaries' featuring General Levy launching AP2P into the European Hip Hop scene. Since then, Bonnot's top-level production and M1's vocal prowess has continued to create a ground-breaking new canvas for his 'call to action' style emceeing and no-compromise political standpoints, together making an explosive soundscape and an even more lethal live show.
The remix is a rallying call for an attitude of social and ecological awareness, with the opening sirens of the track calling out to mobilize Dead Prez and AP2P's audience. The positive concept of 'Time Travel' reflects present attitudes of success as M1's declares "boundless options beyond abductions, we are the universe, break the boxes". Bonnot's infectious stomping beats are enhanced further with the double time, pitch perfect flows of the additional emcees; topping it off with the special guest appearances of Busta Rhymes and General Levy's effortless renowned rapid-fire flows. This remix is released in the lead up to Dead Prez's UK tour and AP2P's new single Sacrifice alongside their upcoming European tour.
Expect immediate updates about Dead Prez and AP2P as they continue to make waves across the UK and European mainstream circuit.
WEBSITE: http://www.ap2p.info - www.ap2p.info
FACEBOOK: http://www.facebook.com/AP2P - www.facebook.com/AP2Psound
TWITTER: http://www.twitter.com/AP2Pmusic - www.twitter.com/AP2Pmusic
For all press and radio enquiries please contact Michael Eastwood / Mastermind PR / michael@mastemindpromotion.com