Hi all and happy New year.
Well, we had a New Years party, and the old girl performed well. some of the banks get a little hot for my liking, especially since its not running hard, but this is likely due to the biasing not being setup, and i think I've sussed it (found a very good tutorial last night on class AB amps and how they work).
The mixing console has been getting a good workover. some items fixed/ongoing:
1, there's a hum that increases with volume, regardless of what input being used, and its also apparent on the headphone output, so i replaced all the power supply caps. Still present, but at least the caps are now ruled out. - all suggestions appreciated!
One of the PSU's has a 15v zenner diode to ground, and i assume its for reverse/overvoltage protection. This was one supply on its own from one transfomer and was red hot to touch. The transformer was putting out 20v, so the diode(and power resitor(see below photo)) were being eating up a lot of energy. I reconfigured the tapping on the transformer to a little over 14v, and all seems to be well.
all the slider pots feel nice and smooth with no crackle, so i've left these alone, but most of the rotaries were either tight due to old grease, or crackling, so i went round these and cleaned/lubed and there's now no crackling, however most if not all are just out of spec. the 100k pots range from 120-150k, which is giving some funny effects with the tone controls in particular, where for example, past 100k on the bass pot, and treble dissapears. Managed to find some close alternatives from Farnell, and await their arrival.
The knackered mic channel was an easy find. A 714 op amp was hot enough to cook an egg on, so thats replaced and all working.
Also received a new deck picked up from Ebay Italy. Rust free, nice smooth tone arm and far less mileage that the one it replaced. The other deck is rusty, the tone arm is far too loose, but otherwise works fine. I'll bide my time and pick up another on Ebay.
Both decks treated to an AT95 cartridge, which seems to be working well, but i think might be driving a slightly higher voltage than whatever was fitted previously, or what the console was designed for, since you dont need much gain at all for the deck inputs to be overly loud, and can distort easily and sound a bit tinny at times. Might need to figure out some form of attenuation, or maybe alter the value of the input/loading resistor on the console (currently 46k)
Installed a logitech bluetooth audio adaptor into the 3rd deck input, along with an L pad for attenuation. Sounds great/works great and completely stealth :)
The lights previously robbed 60v ac from the right hand amp, so i've installed a 5v psu on the main feed and replaced the bulbs. (5v PSU also powers the Bluetooth receiver)
Pics below. We'll chuffed with my efforts on rebuilding the right amp, especially considering its working!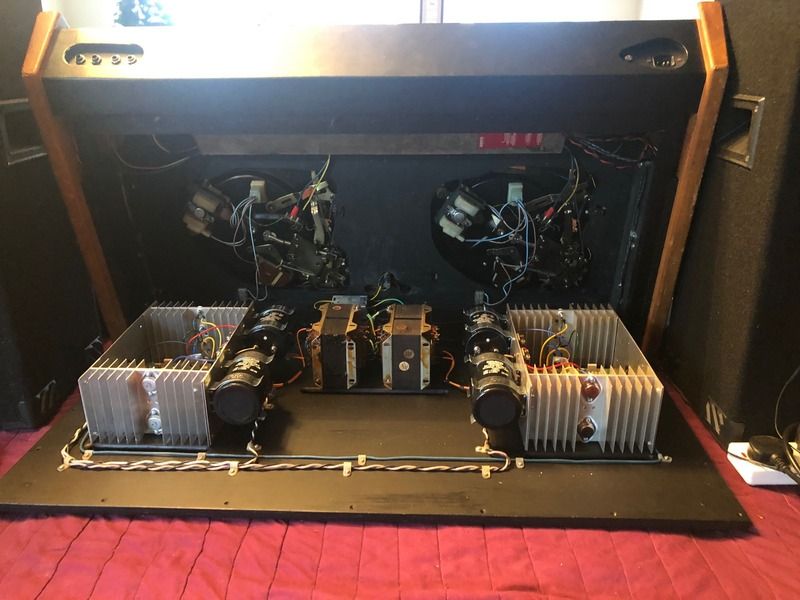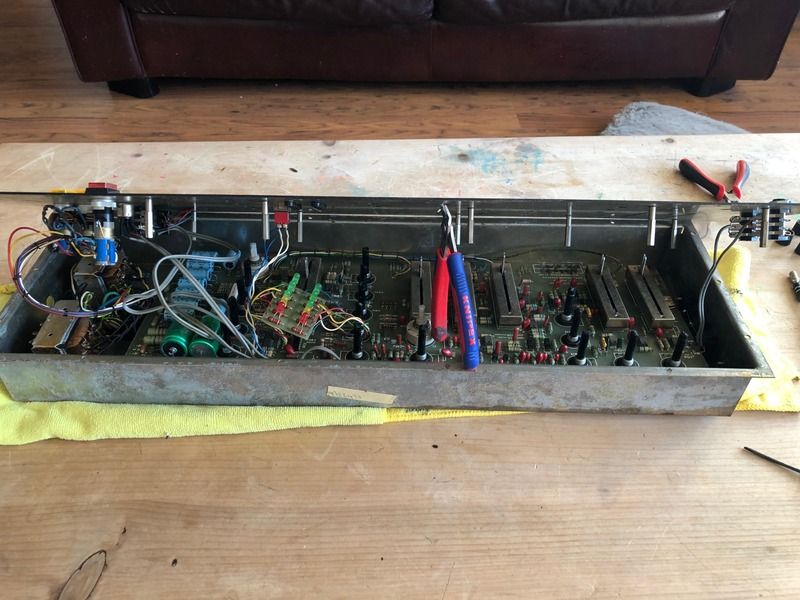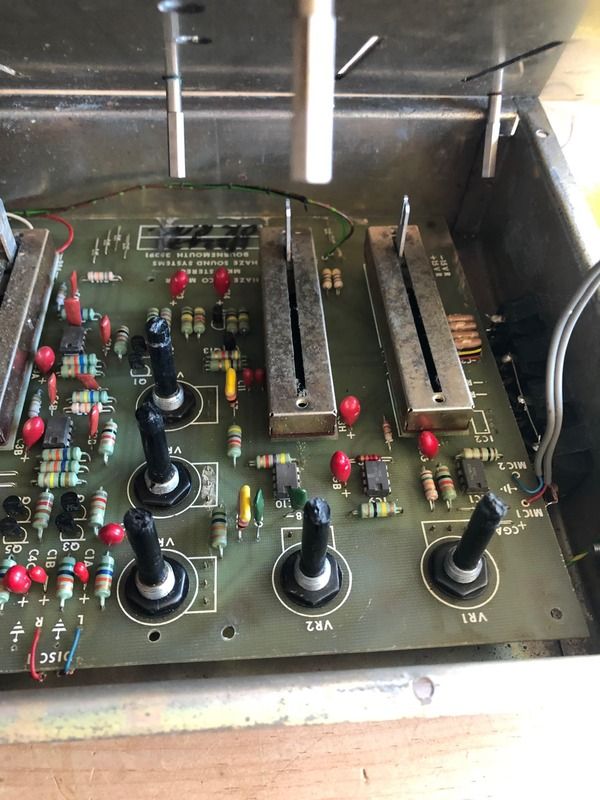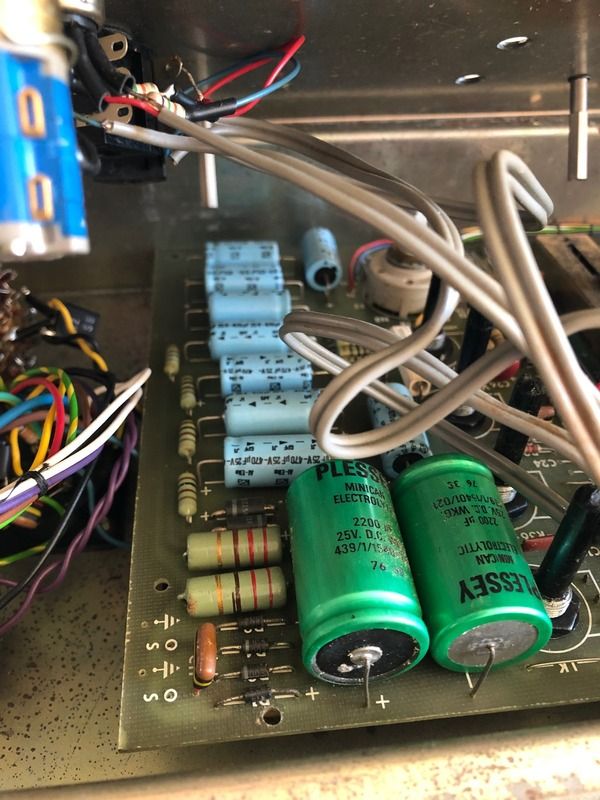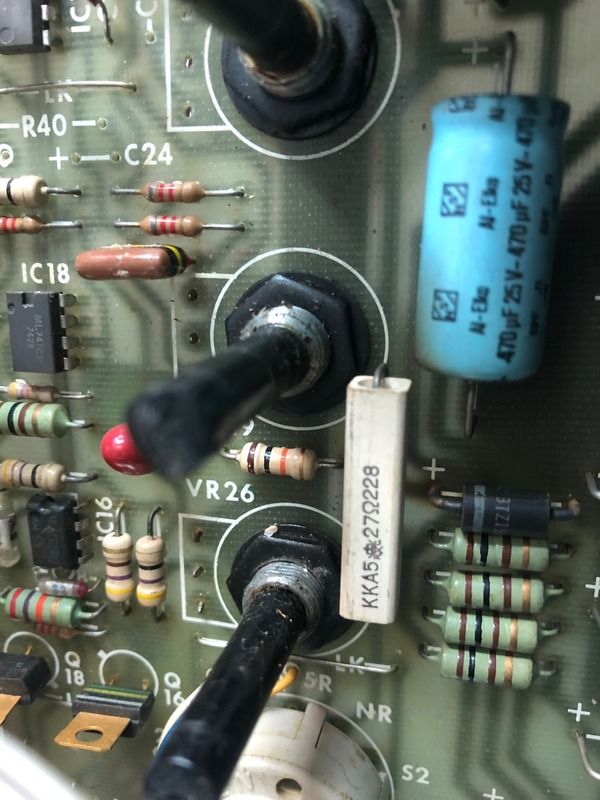 getting there!!