Ok..this is my first attempt at actually putting together a design from scratch. I'm going to run the gauntlet and post it.. having only a matter of weeks of experience with Hornresponse I'm still at the point of playing and learning, and there are still plenty of questions being thrown up. Rather than pestering bit by bit to iron out the doubts I figured it best to show what I came up with so far so you can all point out where I went wrong.
I know there are folks here who seem to think that if you don't know it all already you shouldn't be posting, but hopefully some knowledge can be shared and everyone can benefit from seeing a newbie project tweaked anbd developed..
The design is for a folded kick horn. It has bandpass chambers, I know this is not considered ideal by many for kick, but I'm working around the Kappa 15LF as it's one of few drivers available at reasonable cost here that seems to have around the spec required for the app. The aim is to play 70-160.
I'm trying to acheive the flattest response possible with two bins on a stack. My plots so far say this should play 60ish-190ish flat enough, with a slight rise in response at top end (+<1db).
One cab will play from 70up, but has a large peak above cut off in tghe high hundreds.
two is optimum, seems more cabs than that and low end drops off.
I'm designing this to sit above the HOG scoop (actually slightly adapted version, 6mm longer), there is wasted space, but thats hard to avoid with this design and it suits my requirements size wise so I'm happy with dimensions. It will stack on a vertical Hog, or you can stack them horizontally with Horn Mouth coupled on one/two hogs on their sides... Dimensions are 992x496x636mm
Unlike other BP horns (eg. HD15) it has a longish horn path, around 90cm. I found it was necessary to use both front chamber and a reasonable horn path to keep excursion reasonable with this driver. Possibly this is due to the lowish cut off I aim for here.
I am modelling things using the expected full input power as ref. ...is this Ok? My thinking (one of many assumptions that I'm hoping to check here) is that I need to know the max excursion at peak power to be safe. Do folks generally consider excursion at RMS power to be the limit, or as I have done, excursion at peak??
The front chamber is largish, around 25 litres, don't remember exactly but I will post some hornresponse screenshots to show exact figures. Throat is about 540cm2 and mouth 2825cm2. rear chamber is around 30 litres.
I have tried to apply the "driver edge loaded into horn" theory, though I'm not sure if this is at odds with the bandpass aspect.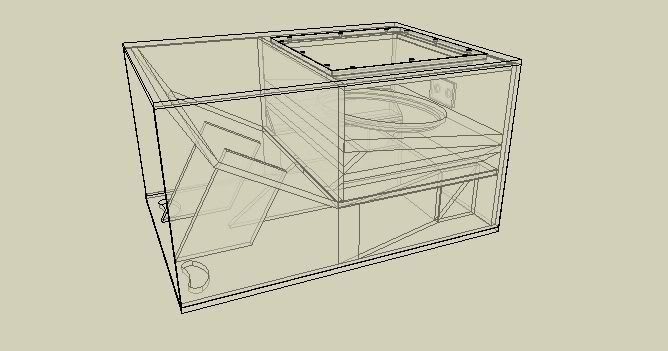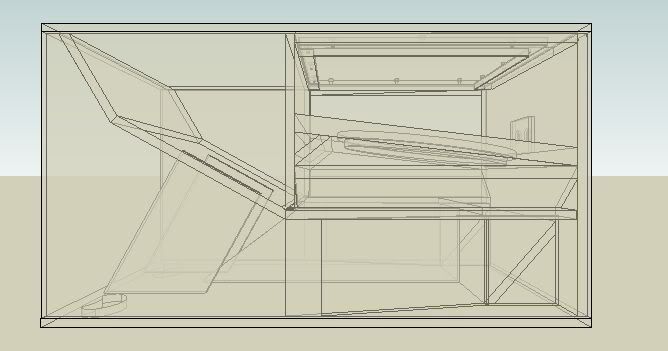 I know it looks like a complex build, but as it's for personal use and construction, that just adds to the fun AFAIAC... The idea was to make the internal construction of the chambers and initial horn flare self bracing for a solid cab, horn mouth is obviously braced and more braces will probably go in behind the front flare angle.
May seem overboard working out full construction for a model which may/may not be worth building, but hey, bored evenings and my mind wants to be thinking speakers, also an excuse to learn to use googlesketch, nice program for free...

Comments, slating, applause (not expected), any response appreciated please!