Here is my 2p worth, and it may be all its worth
Any way, my home system, for listening to nasty mp3s, Mr Andrews will be wagging his finger at me as I type:
The speakers are "reworked" Wharfdale Linton 3XPs, famous because the mid driver was the first to be designed using a computer!! The mids are the original drivers and don't sound too bad. The bass/low mids are model 2065T, with two facing each other, the outside one wired in opposite phase, to the internal one. Ebay special of £20 for 4. Quite cute 1" wharfdale silk domes finish off. (I am not a fan of wharfdale, nor work for them, it just seemed to all come together, but seemed right as the original box is a "heritage" model)
My little amp rack is equally budget and ebay. The anytronics 2x150W drives the four bass drivers, HPF 40Hz-LPF 300Hz. The 3U box is my own build/bastardisation of a Rogers A100 integrated amp (about 2x50W) driving the mids, about 318Hz->4KHz. The other 2 channels of amp in the 3U are Maplin bi-polar amp kits, again 2x50W. My 3U amp has 20000uF in each of the 4 supply rails! The Xover appears to be a chinese version of the Ohm Cleo mkII. Given its age, I'm not sure who got it out first, Ohm or a chinese factory, but either way suits my purpose.
All fed from a Soundblaster external sound card, although I'm hoping to get an edirol DA2496, to eliminate USb bus noise.
My attempts to measure on ARTA can not be taken as gospel, but my ears seem to agree, and its flat enough from 50Hz to 17Khz to pass my mustard test.
The only thing I don't like, is they didn't make handed cabs, so the mids are both right, HF both left, but a little time correction in the Cleo has solved that!!
Anyway, before you all start sniggering, it was a fun home project, and cost less than £150 all in.
I am a proper sound engineer, i promise, here is something from my day job: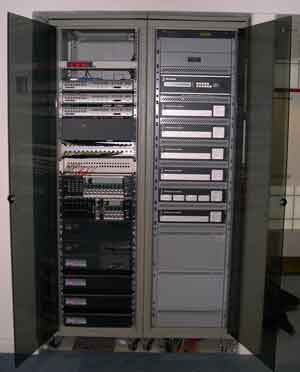 Fully battery backed up, with a fibre optic link to a second pair of 47U racks in the other side of the bus station, this is the Voice Alarm Master Rack I fitted to Finsbury Park Bus Station!